52 Tactics You Must Use In Your LinkedIn Marketing Strategy
Getting started on LinkedIn is easy. But doing it the best way for you and your business was complicated until now.
Here are several great posts with 52 ideas on how you can get the most out of this social network.
7 Essential LinkedIn Marketing Stats: When to Post, What to Post and How to Improve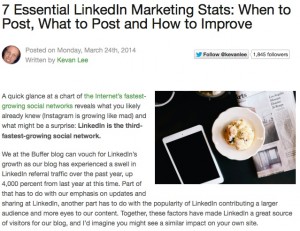 Here's what I learned:
LinkedIn sends nearly four times more people to your homepage than Twitter and Facebook
The most in-demand content is industry insights
Avoid posting during evenings, late afternoons, and weekends
Post at least 20 times per month
A single status update reaches 20 percent of your followers
Help your employees help you (they're the most engaged)
Learn and optimize from your engagement percentage
The Ultimate Cheat Sheet for Mastering LinkedIn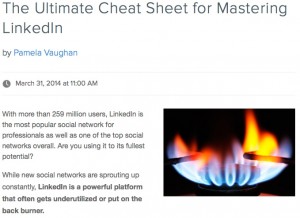 Key points:
Customize your public profile URL
Create a profile badge for your personal website
Make your blog/website links more attention grabbing
Search engine optimize your profile
Show work samples
Add, remove, and rearrange entire sections of your profile
Take advantage of Saved Searches
Quickly turn your profile into a resume
Get endorsed
Use OpenLink to send messages to people you're not connected to
Use Pulse to keep track of industry news
Use Group Statistics for better targeting and marketing
Create your own industry Group (or subgroups)
Add the Company Follow and share buttons to your website/content
Analyze your marketing performance with Page Insights and Content Marketing Score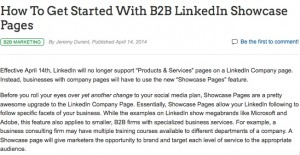 The important point: Starting today, LinkedIn will no longer support "Products & Services" pages on a Company page. Now businesses with company pages will have to use the new "Showcase Pages" feature. This new feature allows business to target each individual service they provide to specific audiences.
12 Resources to Improve Your LinkedIn Profile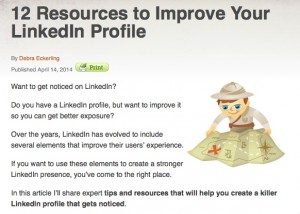 Main topics:
How to improve your LinkedIn summary, profile and work history
Understanding endorsements and recommendations
I hope you can use these ideas to get started on your LinkedIn makeover.